Cameramen
Paul Webster
Paul Webster was the first experienced animation cameraman hired by Radio-Canada's animation studio. He loved animation and had done some amateur films at home before joining the studio. He was responsible for the camerawork on Frédéric Back's first six films and also worked on many other animated sequences created by the studio members for various television programs.
Claude Lapierre
Before joining Radio-Canada, Claude Lapierre had worked at the National Film Board of Canada and had extensive experience as an animation cameraman. It was Claude who introduced Frédéric Back to the 'four-pass' technique used in The Man Who Planted Trees and The Mighty River.

Claude Lapierre at the animation stand.
Claude Lapierre on Frédéric Back
"In Frédéric Back, I discovered a man who embodies the spirit of a generation that values work. He has a craftsman's passion for his craft, for his art, and strives to communicate his pride in a job well done."
Published in ASIFA-Canada, vol. 16, no. 1, April 1988

Left to right, Claude Lapierre, Frédéric Back, Jean Robillard and Norbert Pickering with the Oscar® won by The Man Who Planted Trees.
Jean Robillard
Jean Robillard is an extraordinary animation cameraman. He collaborated with Claude Lapierre on Crac! and The Man Who Planted Trees. However, for all the extremely complex camerawork for The Mighty River, he worked alone. Unfortunately, because of the closure of the Radio-Canada animation studio, he was obliged to change careers once the film was completed. It's very unfortunate that his animation experience and expertise are no longer being put to use.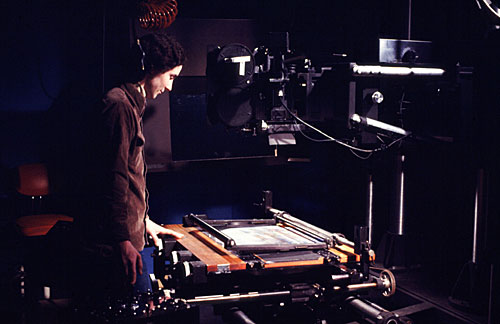 Jean Robillard at the animation stand.
Jean Robillard on Frédéric Back
"I was an animation cameraman for 20 years and loved the work! I would no doubt still be doing it if the studio hadn't closed down. Frédéric Back is an extremely hard worker who was very demanding of himself and, needless to say, of his close collaborators too, which, when it comes down to it, was very good for me since I had to constantly strive to do better!"
Jean Robillard