Inbetweener
Lina Gagnon
"Lina Gagnon had just completed the animated short Beginnings for the National Film Board of Canada after the untimely death of the film's director, Clorinda Warny. With its delicate textures and flowing images, the film had qualities similar to those I wanted for The Man Who Planted Trees. Hubert Tison approached Lina and convinced her to do the inbetween drawings for me. Ever patient and painstaking, she worked with me for several years, and contributed significantly to the innumerable moving images. I always checked each shot and I appreciated the accuracy with which she reproduced the lines and the values, bringing us closer to what I was trying to achieve."
F.B.
Normand Roger, Lina Gagnon, Frédéric Back, Ghylaine Back and Hubert Tison.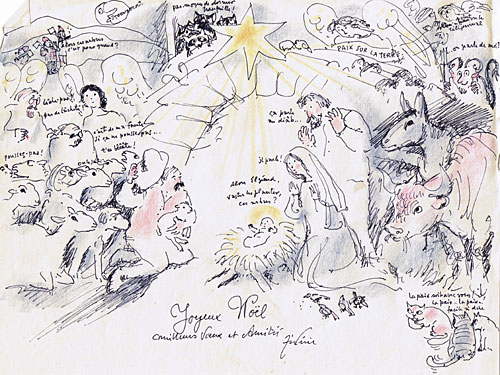 Frédéric Back's Christmas card to Lina Gagnon, in which one can see Hubert Tison and Lina Gagnon at the left and Elzéard Bouffier as a shepherd offering a lamb to the Christ child.
Lina Gagnon on Frédéric Back
"My main concern in working on The Man Who Planted Trees was to become part of Frédéric Back's artistic process without calling undue attention to myself. In any animated film that is not carried out within the usual bounds of compartmentalized tasks, the role of the assistant is part of a delicate equilibrium. A relationship of mutual respect, friendship and alliance gradually developed. I came to know a man who was extremely demanding of himself, constantly questioning his artistic process and searching for the best way to give form to his vision. While he has strong views and can be stubborn, Frédéric is also someone who is generous and considerate. It was a great pleasure to be part of his team and a privilege to have participated in the making of this fine animated film."
Published in ASIFA-Canada, vol. 16, no. 1, April 1988
Frédéric Back's cartoon of raccoons squatting in Lina Gagnon's attic.
A cartoon Frédéric Back gave to Lina Gagnon depicting raccoons hard at work at her house. Lina's raccoon problem was a running joke in the animation studio.