Producer
Hubert Tison
After graduating from the École des beaux-arts de Montréal, Hubert Tison studied animation in Zurich and London, followed by an internship with the public broadcaster ORTF in Paris. In 1965, he directed the first professional animated films produced by Radio-Canada.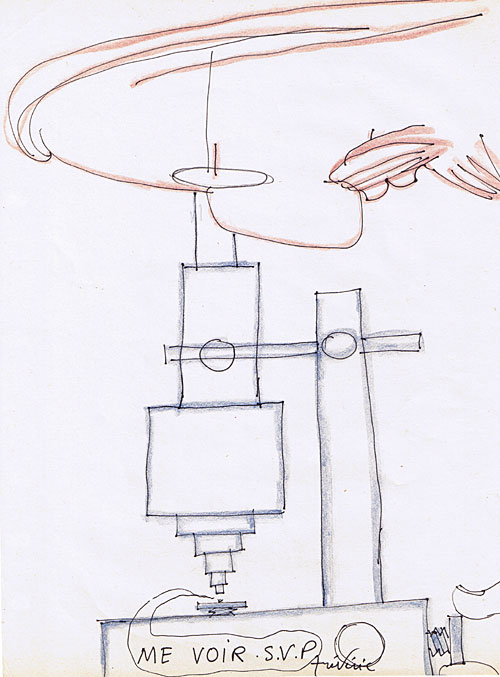 Cartoon by Frédéric Back asking to see Hubert Tison.
"Hubert Tison is much more than a producer. He's an active participant, a co-director, whose criticism, comments and encouragement always present an alternative vision that stimulates me and helps me achieve more interesting results. What's more, his technical knowledge is extremely helpful; it helps make the whole post-production process more efficient, from picture editing and sound through to transfers and re-recording. People often give me all the credit for my films, but the reality is that the quality of the work results from our mutual attention to detail and our friendly confrontations. I am convinced that many directors would create better work if they had a producer with as much technical knowledge and artistic rigour as Hubert Tison. From the initial script right through the final mix, his passion, optimism and cinematic sensibility have influenced everything I do.
Cartoon Frédéric Back gave to Hubert Tison when All Nothing failed to win the Oscar®.
"For me—and for Hubert Tison—the quality of the story and the weight of the message are the most important elements in a film. The artistic and technical values help to enrich the film, to take it higher and further, but at the heart there is an ideal that seeks expression and that motivates everything else.
Cartoon by Frédéric Back: Hubert Tison as Frédéric Back's trainer trying to keep him in the fight to finish The Mighty River.
"Hubert's strong involvement in the script development and his editing suggestions for The Mighty River were very useful in balancing the film's positive and negative aspects. He insisted that the beauty of the river be illustrated, which I tried my best to do." F.B.
F.B.
Published in ASIFA-Canada, vol. 21, no. 4, December 1993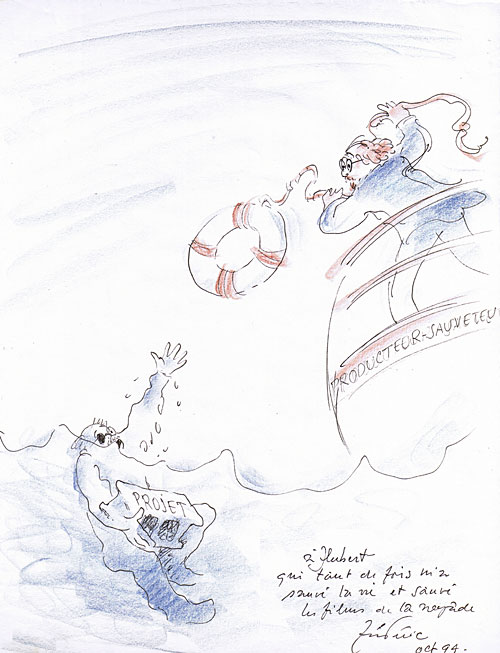 Cartoon Frédéric Back gave to Hubert Tison.
Hubert Tison on Frédéric Back
"I first heard of Frédéric Back while still a student at the Beaux-Arts. It was the early days of Radio-Canada television. I kept seeing his name in the credits of different shows, from music and youth shows to dramas and variety programs. Painter, illustrator, set designer, model maker—he turned his hand to everything, with a consistently innovative approach. I came to know Frédéric Back better some years later when I had convinced Radio-Canada management to create an animation department that would bring together in-house talent and provide them with a professional-quality facility. Frédéric Back was invited to join the studio, and we soon became friends, as we shared many common goals. Frédéric had begun a new career and was determined to devote himself entirely to creating animated films. Since then, I have participated in the development and production of his projects, striving to provide him with the best possible support in every way. All of his films have enjoyed substantial international success. He has made a spectacular contribution to making some of my dreams a reality. I appreciate this and thank him for it."
H.T.
Published in ASIFA-Canada, vol. 16, no. 1, April 1988
Hubert Tison and Frédéric Back at work.
Photo: André Lecoz
Ghylaine and Frédéric Back with Thérèse and Hubert Tison in California.