Films produced by Radio-Canada's animation department
In 1970, Hubert Tison approached the head of youth programming with an idea for a cultural exchange program between Canada and countries in the European Broadcasting Union. Under his scheme, each participating country would produce one children's animation per year. In exchange for the completed film, participants would receive, free of charge, the works produced by the other countries—in other words, 12 films for the price of one. The idea was approved and the animation department was asked to produce a 10-minute film on very short order. With his colleague Graeme Ross, Frédéric Back made Abracadabra, the first film to be produced as part of this international exchange.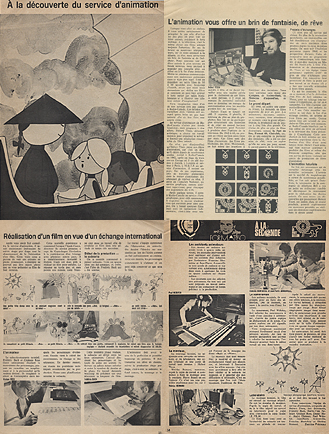 "À la découverte du service d'animation." Radio-Canada internal publication, 1970
In the context of producing weekly television shows, spending three to four months making a film that was just a few minutes long was a hard notion to sell. Bit by bit, however, backed by their producer, the artists in the animation department managed to obtain longer deadlines, allowing them to take on more sophisticated, more ambitious projects. Their films won awards abroad and Radio-Canada's "animation studio" gradually made a name for itself on the international animation scene. Over the years, the staff grew until the studio had about 15 full-time employees. In 1980, a second Oxberry animation stand was acquired and, two years later, a Cinetron, the first computerized motion control system. Meanwhile, Frédéric Back's animated short All Nothing garnered an Oscar® nomination, the first ever for Canada's public broadcaster.
Cartoon drawn by Frédéric Back as the studio impatiently awaited its second animation stand.
Cartoon drawn by Frédéric Back about Radio-Canada's occasional attempts to redeploy employees from other departments to the animation studio.
A series of cartoons given to Hubert Tison by Frédéric Back expressing their astonishment at how long it took Radio-Canada management to react to All Nothing's Oscar® nomination.